I live in two worlds; one is a world of books

– Rory Girlmore
Happy Friday, puffs! I can't believe it is 2020! Wow! Where has the time gone? Are you having full blown post holiday funk even though we are about 2 months into the year? Because I sure am! The only thing that really truly has been helping me recently is to put on a pot of coffee, pull out a box of poptarts, sit on the couch and watch my all time favorite show…Gilmore Girls! If you know me at all then you know that on most days I truly wish I were in Stars Hallow. So I thought I would compile a list of books that I think some fellow Gilmore Girls fans may also enjoy! Even if you are not a fan of the show I still recommend giving these books a shot.
Talking As Fast As I Can by Lauren Graham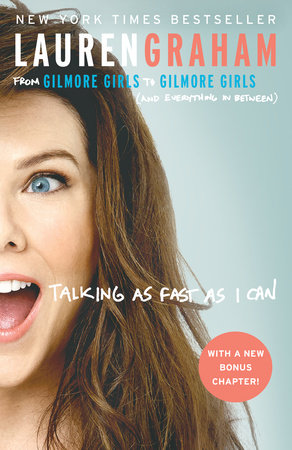 Okay, how can I make this list and NOT include this book? Of course if you are needing something to fill that hole in your heart while you patiently await more episodes of Gilmore Girls (one can only hope) then this book is perfect. The queen herself, Lauren Graham, discusses all of the behind the scenes details of the show from start to finish as well as what she learned along the way while taking on the amazing role of Lorelei. I highly recommend giving the audiobook a try as Lauren reads it herself and you really feel like you are just sitting down and having coffee with Lorelei. I love it!
The Readers of Broken Wheel Recommend by Katarina Bivald
One of the best parts of Gilmore Girls is the small town setting that just makes you feel so cozy and part of the community. The Readers of Broken Wheel Recommend is a heart warming story all about community! When Sara travels all the way from Sweden to meet her bookworm pen-pal, Amy, to Broken Wheel, Iowa she is welcomed into their small community after a tragedy and she helps breath life back into the community through the best way possible…BOOKS!
The All-Girl Filling Station's Last Reunion by Fannie Flagg
The All-Girl Filling Station's Last Reunion ties together some of my favorite GG elements: sisterhood and friendship. The book focuses around a main character named Sookie (yes, just like our beloved chef Sookie!) who is finally looking forward to her "golden" retirement years with an empty nest, when one day a mysterious package shows up on her door step that will shake up her plans as a story of sisterhood and re-imaging your "destiny" unfolds.
Wild by Cheryl Strayed
If you watched Gilmore Girls: A Year in the Life then you will be super familiar with Cheryl Strayed's book. Sure, Lorelei may of given up not very far along the trail when she decided to "go Wild" but this book did help her deeply. With both the loss of her father and her situation with Luke. In Wild, Cheryl shares how she felt as though she hit rock bottom in her life and needed a very big change. So she made the decision to set out on the Pacific Crest Trail totally alone with no former training. Along her journey she learns so much about herself and her capabilities.
Chocolate Chip Cookie Murder by Joanne Fluke
I recently fell in love with cozy mysteries this past year and Joanne Fluke has easily become a favorite! The main character, Hannah Swensen, reminds me so much of Lorelai with her quick wit and sharp tongue. Set in a small town in Minnesota, filled with eccentric locals, you will feel like you are right back in Stars Hallow. Also, Hannah is the owner of a cookie shop and the novel includes recipes that go along with the story! You can find out more about the book as well as one of the recipes (Chocolate Chip Crunch Cookies!) on my Book & A Bite blog post.
So have you read any of these? Do you have any other suggestions? Let me know in the comments below! I can't wait to chat with you all!
Always,
Alicia